STUNNING PAIR OF SIGNED MID MEIJI PERIOD SATSUMA VASES by TANIGUCHI KOMAKICHI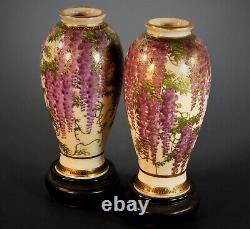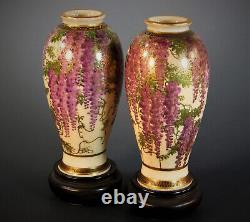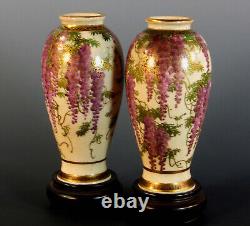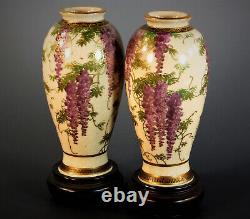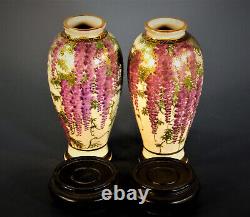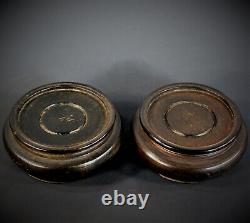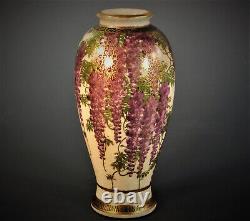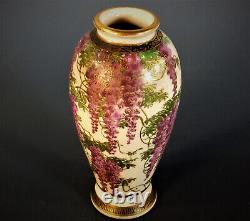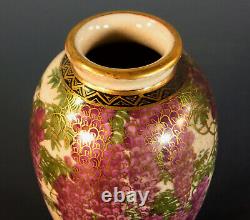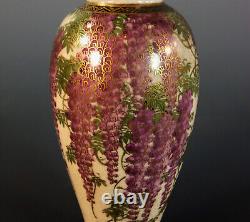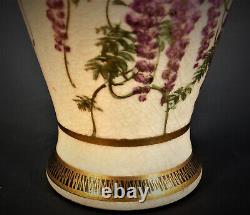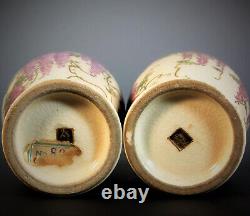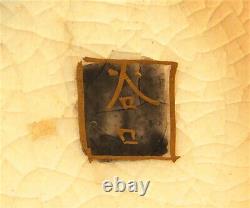 STUNNING PAIR OF SIGNED MID MEIJI PERIOD SATSUMA VASES. In a tapering inverted teardrop form with small everted feet and squat wide rim they are depicted as very fine quality hand painted enamel and heavily gilded ceramic (miniature) vases with fine and minutely portrayed images of a floral nature (cascading Wisteria) around its body. The quality of the painting is superb so I hope my photographs do them some justice. The base is marked with gold hand painted signature on a black lozenge (Taniguchi's) mark and retain their original paper trade labels - see photographs and details. The dedicated wooden stands are nicely formed. They measure 6 1/4" (16cm) H (without the stands) x 4 1/4" (11cm) W approx; and are in excellent condition, although there is are small shallow chips to the bases of both wooden stands apart from this there are no other defects at all to report, however, I should report there is a very tiny (half a pin head, or less) dent to the gilt rim to one which I think was done in the making / gilding - see photographs and details. These are superb quality, period signed satsuma vases on stands with extremely fine painting by one of the very best artists that are in great condition and with a low start price should interest alll collectors. THERE IS NO RESERVE ON THIS SALE.
Almost everything I sell is in the condition I have bought it, unless otherwise stated, (I have learnt to my cost in the past not to tamper with an item), and therefore I have neither had items repaired nor restored. I will endeavour to report on an item which has had either; however I take no responsibility if an item has been tampered with and I cannot detect it. Please don't waste your time asking for a b. I will dispatch goods on clearance of any of the above. I do not accept - non UK.
All parcels are well packed and protected with strong boxes, bubble wrap and packaging peanuts where necessary. So please read them carefully as they are binding.
Do not hesitate to contact me if you need additional information.