Pair Antique Micro Petit Point Needlepoint Framed Tapestry Signed REICH (Adolf)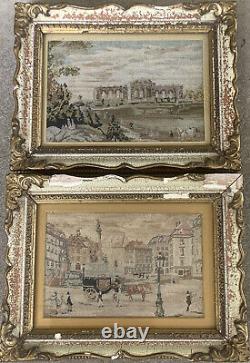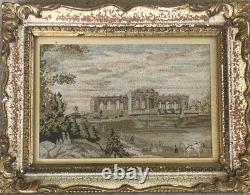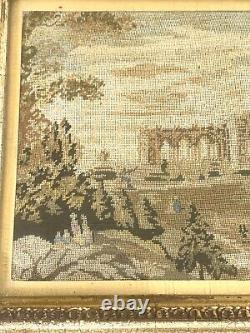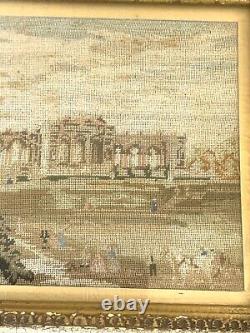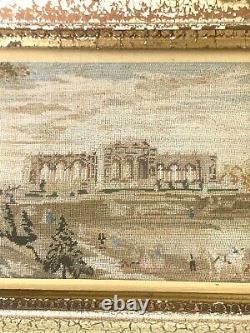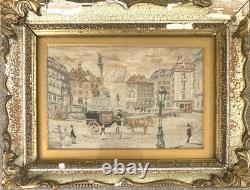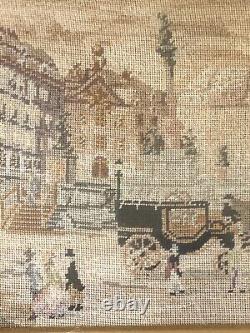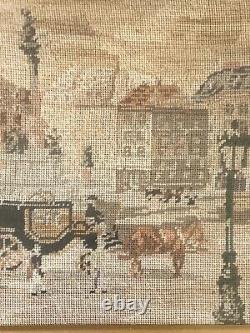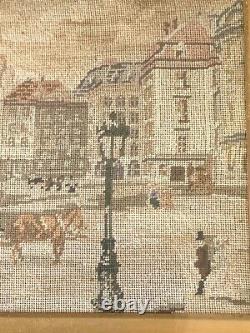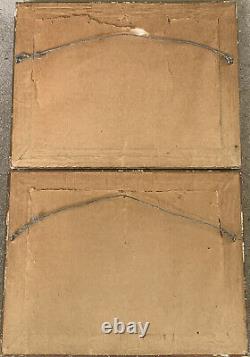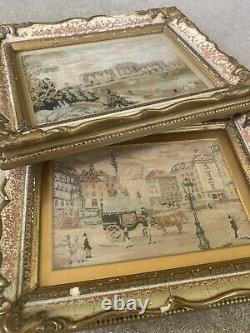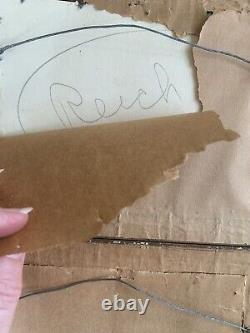 This amazing artistry was most likely hand stitched in Austria due to each subject matter. The top picture in the first photo is The Gloriette in the Schönbrunn Palace garden in Vienna. The artist's intricate detail is unsurpassed. One single stitch is less than a millimeter (3/4 of a millimeter).
The passion, commitment and patience of this skilled artisan is displayed in each scene holding a minimum of 26,400 stitches. A truly unbelievable treasure to be admired and cherished for decades to come. Measurements: 6 3/4"H x 8 3/4"W x 1D. Condition: Beautiful condition for the tapestries but both original frames show their age with the bottom image frame extremely damaged. (both embroidered images are protected under the original glass).
Please Examine Photos Carefully for condition. ABOUT Schönbrunn Palace garden gloriette.
The largest and probably best-known gloriette is in the Schönbrunn Palace garden in Vienna. Built in 1775 as the last building constructed in the garden according to the plans of Austrian imperial architect Johann Ferdinand Hetzendorf von Hohenberg as a "temple of renown" to serve as both a focal point and a lookout point for the garden, it was used as a dining hall and festival hall as well as a breakfast room for emperor Franz Joseph I. The dining hall, which was used up until the end of the monarchy, today has a café in it, and on the roof an observation platform overlooks Vienna.
The gloriette's decorative sculptures were made by the famous Salzburg sculptor Johann Baptist von Hagenauer. The gloriette was destroyed in the Second World War, but had already been restored by 1947, and was restored again in 1995, when its central part was closed with glass panes and converted to a café.
The gloriette is dedicated as a Monument to Just War, that which leads to peace. The front face bears the following inscription: IOSEPHO II. AVGVSTO ET MARIA THERESIA AVGVSTA IMPERANTIB. Erected under the reign of Emperor Joseph II and Empress Maria Theresa, 1775. An essential part of the inscription is the addition of AVGVSTO and AVGVSTA, used as a link to the first Roman emperor and state god AVGVSTVS by his heirs and successors as finally the Habsburgs in their functions as emperors of the Holy Roman Empire of German Nation.
It is a bronze copy of that of Emperor Ferdinand III. The Vienna Column was commissioned from the imperial foundry founder Balthasar Herold in 1664 and inaugurated on December 8, 1667 at the court.
It is located between Bognergasse, Naglergasse, Heidenschuß, Färbergasse, Judenplatz and Schulhof in the oldest core of the city in the immediate vicinity of the medieval ghettos. Born 30 Apr 1887, Wien - DIED 16 Nov 1963, Salzburg.
Grave Location: Salzburg: Kommunalfriedhof, Gneiser Strasse 8 (Gruppe 75, Reihe 0, Nummer 65). Adolf Reich came from a humble family.
Primarily self-taught, his genre-art is considered some of the finest from this period. During the First World War he worked as a scenery painter at the Volkstheater in Vienna. In 1916 he went to the Academy of Arts in Vienna where me made little friends because he disapproved of modern art and held on to neo-classicism. After he finished his studies there he was moderately successful as the'Austrian Spitzweg'. In 1926 he moved to Munich together with his wife.
His work became popular in nazi circles and the nazis came to power they exhibited it at the Haus der Deutsche Kunst and published it in art magazines. In 1945 he was imprisoned in Camp Marcus W. Orr near Salzburg where he painted portraits of American officers and their wives. He lived in the camp until it was closed in 1953 and settled in Salzburg afterwards. Nothing came of his wish to teach other artists because of his nazi past.
He died in 1963 in Salzburg. In later years his work was rediscovered. Bahamas, Bermuda, Brunei, Darussalam, Cayman Islands, Chad, Côte d'Ivoire (Ivory Coast), Djibouti, Ecuador, El Salvador, French Polynesia, Guyana, Honduras, India, Iran, Jamaica, Kuwait, Lebanon, Libya, Madagascar, Maldives, Mauritania, Mauritius, Moldova, Mongolia, Montenegro, Morocco, New Caledonia, Panama, Peru, Philippines, Saint Kitts-Nevis, Saint Lucia, Samoa, Somalia, South Africa, Sri Lanka, Suriname, Trinidad and Tobago, Tunisia, Turkey, Wallis and Futuna, Western Sahara, Zimbabwe.
This item is in the category "Antiques\Tapestries". The seller is "kbarbara" and is located in this country: US. This item can be shipped to United States.
Type: Tapestry
Finish: Antique